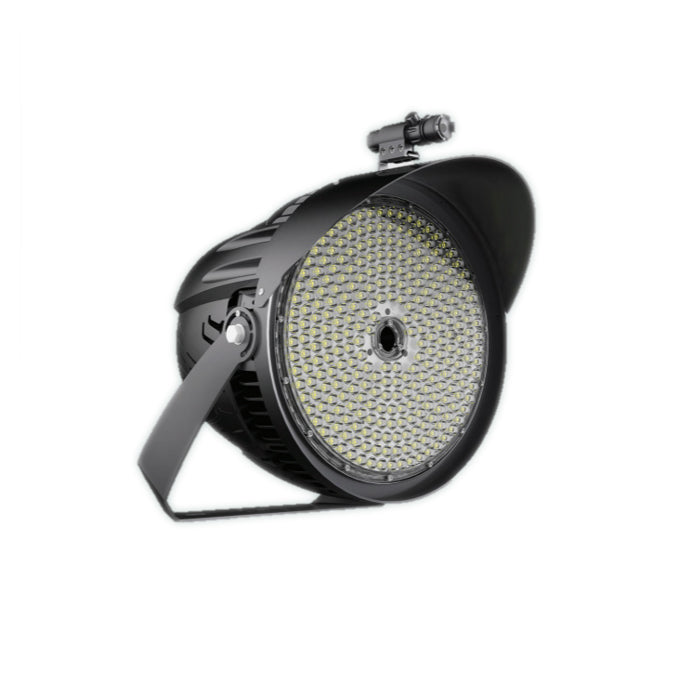 The Champion 2 LED Sports Flood Light is the ideal stadium light. This sports light packs a punch providing 150L/W. It is available in multiple beam angles and color temperatures. This fixture is waterproof, (IP 66 rated), dustproof, and provides superior thermal venting. Operating temperature –30° to 40°C (-22F to 113F). Standard dimming of 0-10V.
Features
With fin heat sinks, increased heat dissipation and a longer life for SD series sports lighting. The back cover has a cooling effect (the power is placed on the back cover, and the heat generated is con-ducted to the back cover to dissipate heat).
Available with Laser Aiming Device (LAD) precision control in angling and aiming each sport light to its exact optimal position.
The Champion 2 boasts an efficacy of between 130 im/W and 160lm/W depending upon wattage. Please Note: All Lumen output values given are based on 5000K and certain beam angles.
Outputs will vary depending upon wattage, voltage, colour temperature and optics (beam angles). Please refer to our IES files on our website.
Certain custom optics are available for certain wattages. Please consult factory as MOQ's may apply
All drivers 300-1000W are integral and IP65 Rated. 1200W is 2 remote drivers. Remote driver options are available for all wattages. Please consult factory.
Custom length secondary cables (from driver to luminaire) complete with connections are available. Please consult factory.
Options
For mounting you can choose between YK yoke (standard) and SF slip fitter.


Quick Summary
• Wattage: 300W, 400W, 500W, 600W, 750W, 1000W,1200W
• Mounting: Yoke (standard), Slip Fitter
• Lumen : (300W) - 48000lm, (400W) - 64000lm, (500W) - 77500lm, (600W) - 90000lm, (750W) - 97500lm, (100W) - 130000lm, (1200W) - 156000lm
• Optics: 15˚, 20˚, 25˚, 40˚,60˚, 80˚
• CCT: 3000K, 4000K, 5000K, 5700K
• CRI: Ra>70+
• Voltage: 100-277V (UNV), 277-480V (HV)
• Finish: Black
• IP Rating: IP66
• Certification: CE, cUL, FCC, and DLC
• Warranty: 6 Years