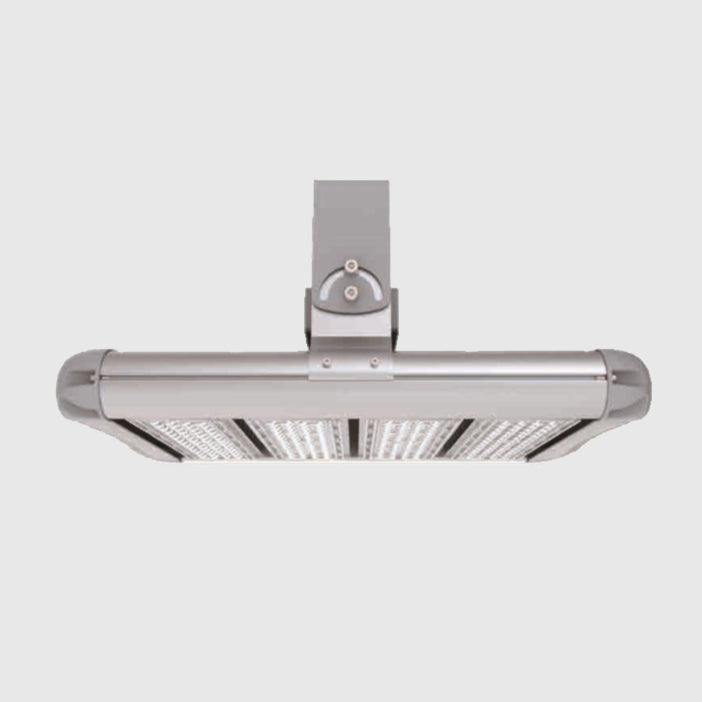 The multipurpose Trimax LED High Bay/Low Bay/Floodlight series can withstand very high temperatures. Its standard operating temperatures are are between –30° to 60° / –22° to 140° F. It also has a High Temperature Option that increases its operating temperature range to –30º to 80ºC / –22º to 176ºF
Trimax has a lumen output of 130 Lumens per watt.
Trimax boasts a versatile modular design with several optical lens choices. Easy installation and maintenance makes this IP66 rated fixture your number one choice for premium applications. Multiple accessories are available for a more flexible application.
Quick Summary
• Wattage: 100W, 150W, 200W, 300W, 450W
• Mounting: Yoke, Long Arm, Short Arm, Surface Mount, Eye-Bolt , Long Slip Fitter, Short Slip Fitter
• Lumen : (100W) - 13000lm, (150W) - 19500lm, (200W) - 26000lm, (300W) - 39000lm, (450W) - 58500lm
• Optics: 70x135˚ (Standard), 30˚, 90˚, 110˚, 150˚, 30x100˚, 60x100˚, 60x150˚, 70x130˚, 73x133˚, 75x145˚
• CCT: 3000K, 3500K, 4000K, 5000K
• CRI: Ra>80+, 90+
• Voltage: 120-277V, 277-480V
• Dimming: 0-10V Dimming
• Finish: Silver
• Certification: CSA (SI), ETL, CE, RoHS, CE, WEEE, DLC
• Warranty: 6 Years