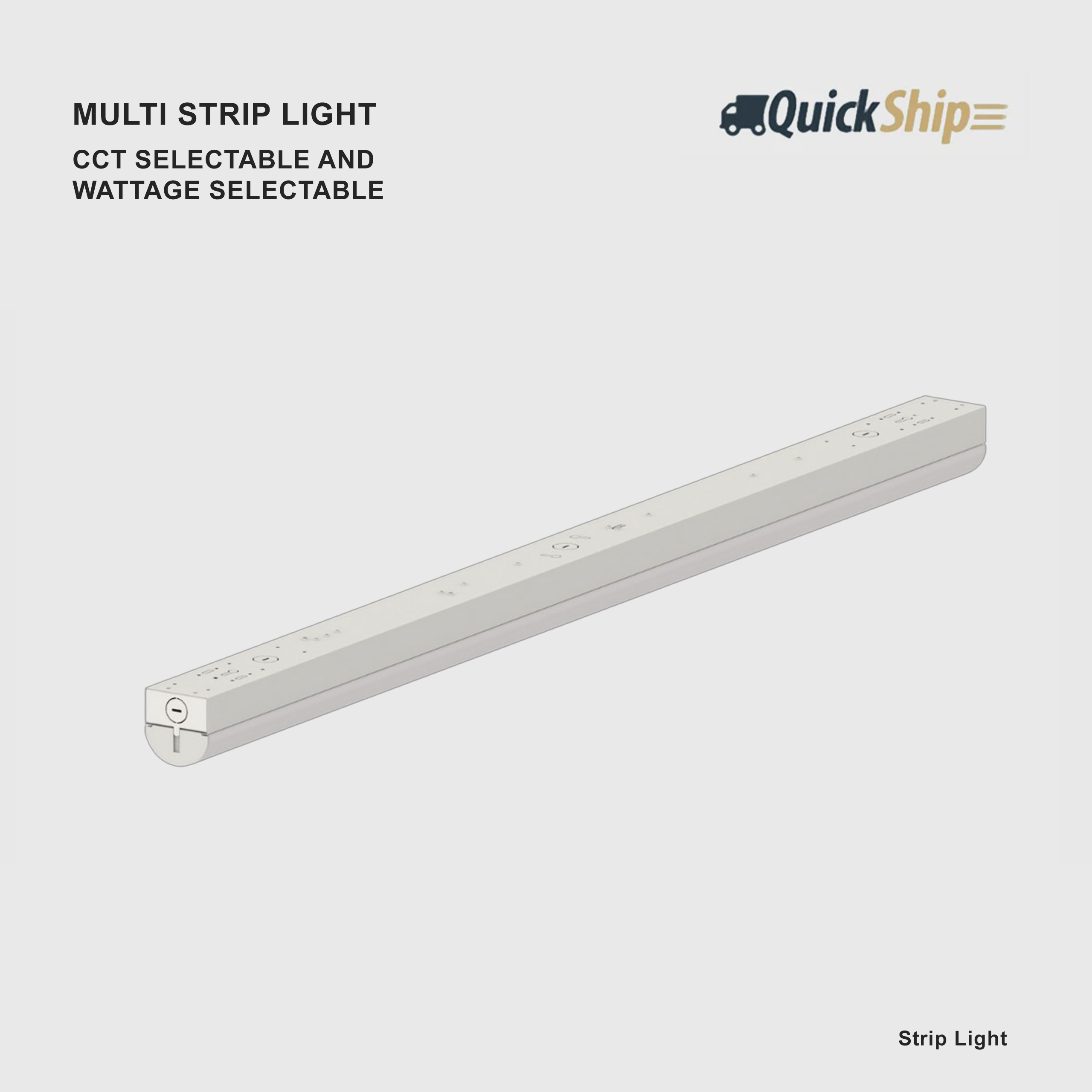 LuxLogic Lighting's Multi Strip Light is BOTH CCT SELECTABLE (3500K/4000K/5000K) AND WATTAGE SELECTABLE.
It is ideal for use in mezzanines, workshops, commercial garages and warehouse environments.
The Multi Strip Light has a 120-degree beam angle and a handy removable lens for quick cleaning. It has an efficacy of 130lm/W.
2FT, 4FT and 8FT lengths are available. The fixture is available with either a round (standard) or square PC lens (please consult factory).
They can be surface mounted or suspended.
Suspension kit (SP) includes 2pcs 1m aircraft cables and 1 pc 1.5m black power cable. They can be connected for continuous runs by way of an IC (inline connector) accessory.
Operating temperature: -20 ~ 45ºC / -4 ~ 113ºF
IP20 Rated
Quick Summary
• Wattage Selectable Options:
2 ft: 15W/18W/22W/25W
4 ft: 30W/36W/40W/50W
8 ft: 60W/68W/72W/80W
• Efficacy: 130Lm/W
• Standard cable length is 40cm/15"
• Lumen Output:
2 ft: 1950/2340/2860/3250
4 ft: 3900/4680/5200/6500
8 ft: 7800/8840/9360/10400
• Mounting: Surface Mount (Standard), Suspended
• Size: 2 Feet, 4 Feet, 8 Feet
• CCT: Selectable 3500K/4000K/ 5000K
• CRI: Ra>80+
• Voltage: 120-347V (CUNV)
• Dimming: 0-10V Dimming
• Finish: White (Standard)
• IP20 Rated.
• Certification: UL and DLC
• Warranty: 6 Years






Multi Strip Light Installation Instruction Videos
Multi Strip Light | CCT Selection Video
Multi Strip Light | PC Lens Installation Video
Multi Strip Light | Surface Mount Installation Video
Multi Strip Light | Wattage Selection Video
Multi Strip Light | Wire Guard Installation Video
Multi Strip Light | Continuous Run Connection Video